Delicious
Oh my so sweet and delicous. Makes the entire house smell like I have been baking
Not for me
This one is a bit too sweet for me personally, the melts are super strong. If you love this scent, though, it's a good thing!
delicious
It does smell delicious but you have to get pretty close to the candle to smell it. What a shame it isn't stronger.
Birthday mmmmmm
This is a nice candle but not very strong. If it were stronger it would be my favourite
I did a bad bad thing
Purchased intending to give as a gift. One sniff and it's not going anywhere. Can I eat it??????? Drat now I need to go shopping for a gift.
@Candle Crush....can you make more of your candles as melts. Dying to try one night at the movies but don't want to buy a big candle.
Smells amazing!
This one smells like the glasshouse candle from Peter Alexander! But more affordable and in super cute packaging! No ragrets, will purchase again
Love it!
I was so excited when I saw this announced. It did not disappoint!
Delicious
Love all the baked goods and this one didn't disappoint. Highly recommend
Nice bit not strong
Really nice scent but just wish it was a bit more potent
LOVE AT FIRST SNIFF. GUARANTEED.
We want you to love your Candle Crush purchase and we understand buying scented products online can be tricky.That's why we have our Love At First Sniff™ Guarantee.
If you purchase a scent and don't fall in love upon first sniff, you can return the unburnt/unmelted product for a new scent or refund.
Tired of the same old candles in the packaging that takes itself a little too seriously? Same old scents getting a little stale? We're breaking the mould and making candles fun again! A wide range of delicious scents are paired with funny, quirky and just plain silly names to make a natural soy candle that's a joy to burn!
While our names aren't very serious, there is one thing we do take seriously - quality.
All candles are hand poured by master candle makers and batch tested to ensure they burn evenly and smell amazing!
CANDLE CRUSH products are all made using 100% natural soy wax. Soy wax is vegetable-based and is completely natural and sustainable - unlike paraffin wax which is derived from crude oil and isn't good for the environment or potentially your health. Insist on only burning natural soy wax candles!
Candle Crush fragrances are made from a combination of natural and synthetic fragrances manufactured for us in the USA.
All of our fragrances meet or exceed global industry standards based on the research and standards established through RIFM (the Research Institute for Fragrance Materials) and IFRA (International Fragrance Association).
All ingredients are distilled and/or purified to ensure the highest quality and performance.
All of our fragrances are phthalate free.

We use 100% natural & sustainable soy wax manufactured in the USA.
Our special formulation ensures your candle burns evenly while producing an amazing scent throw.
Our wax is GMO free and contains no paraffin or additives.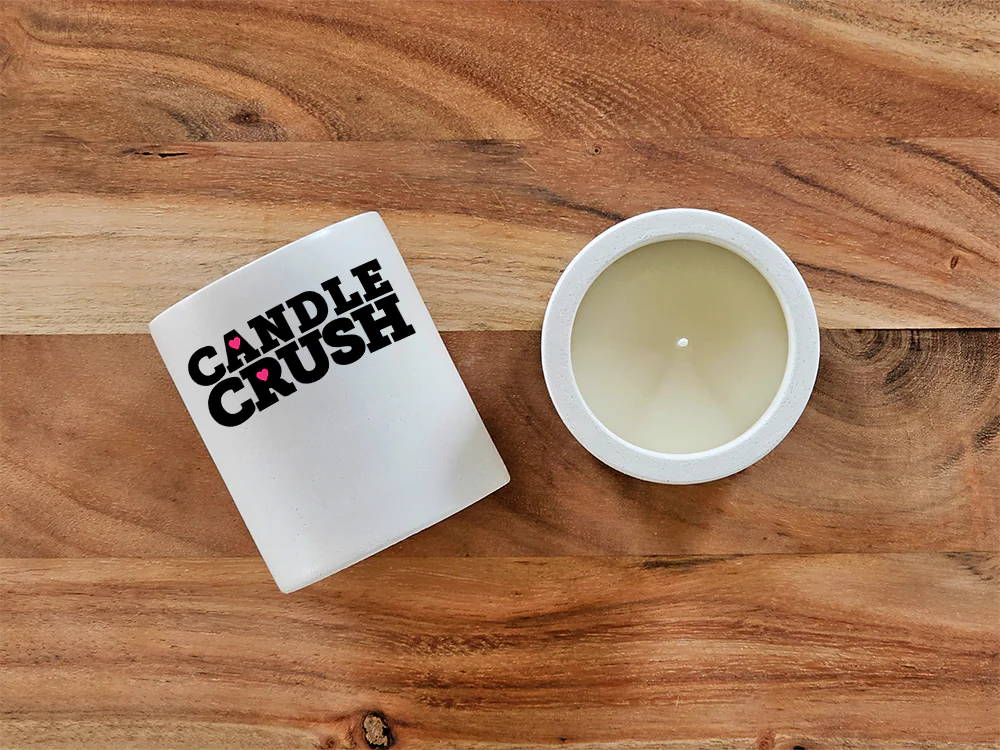 HANDMADE WHITE CONCRETE JARS
Our jars are handmade right here in Aotearoa - New Zealand from durable, eco concrete.
Each vessel is handmade and 100% unique, featuring a seamless, white concrete design giving a sleek yet industrial look to our range.
Height: 100mm
Diameter: 80mm
Opening: 65mm

Candle Crush wicks are manufactured using textile-grade cotton and are designed to work perfectly with our natural soy wax.
We find our wicks burn very cleanly compared to other brands.
Our wicks are zinc and lead free.